Small, light and user friendly, this innovative device has been developped in collaboration with sportsmen, sportswomen, and French teams' technical and medical staff. It broughts to you two complementary and unique modalities of recovery.
Choose your recovery :
GLOBAL RECOVERY
Go on with the steps of the race, ride in steep areas, swallow up the miles, dare to push your ambitions to the limit! Veinoplus Sport, partner of the Tour de France major teams, adds a new dimension to recovery. It activates your peripheral heart : the calf muscle pump, providing you an optimised "whole-body" recovery. More
VEINOPLUS global recovery program :
NO MORE RECOVERY RIDES!
Veinoplus Sport increases arterial blood inflow (rich in oxygen and nutrients), enabling an "active" recovery in the conditions of a "passive" recovery. This efficicent calf pump muscle activation mobilises large blood volumes: your entire body benefits from this unique recovery modality. Your energy is maintained so you can run the distance and avoid general fatigue.
VEINOPLUS SPORT FACILITATES GLYCOGENIC STOCK REPLETION
Veinoplus sport, contrary to the active recovery, does not trigger muscular work. Glycogenic stock repletion is facilitated and you can perform better, over time.
VEINOPLUS SPORT ACCELERATES LACTATE ELIMINATION
Veinoplus Sport accelerates global elimination of metabolites (such as lactate). Using the device after a training, a race or between two events will give you the opportunity to benefit from an optimised recovery, for a better performance.
VEINOPLUS SPORT INCREASES VENOUS BLOOD DRAINAGE
Veinoplus Sport increases venous blood return (poor in oxygen), thus preventing general fatigue accumulated during a race.
VEINOPLUS SPORT IS THE DAILY PATNER OF EACH CYCLIST
Small, practical and efficicent, Veinoplus Sport is your natural performance and recovery partner.
Romain Lemarchand
Cofidis Pro Cycling Team.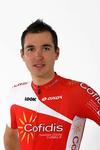 I am very satisfied with Veinoplus Sport.
I use it for recovery after a race or a trainig session, and also during travels.
The stimulations provide me with a well-being sensation and help the venous return. My legs are less heavy (which is essential during our frequent travels), and the recovery is improved. I am use to stimulate as soon as the training or the race is over. We generally have a bus transfer after the stages. Veinoplus Sport enables to start sooner the recovery, before continuing it with a massage at the hotel. The masseur's work is facilitated since the toxins have already been drained by Veinoplus Sport.
It is a little extra which enables me to be on top the day after a training or a race!"
RECOMMANDED SESSION TIME:
Significant effects since 10 minutes. For optimum results, use 30 minutes.
BODY POSITION:
Seating
INTENSITY ADJUSTMENT
Progressively increase the stimulation intensity in order to see and feel deep muscles contractions.
POSITION OF THE ELECTRODES ON THE MUSCLES :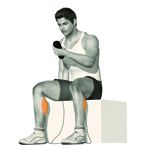 Training optimisation
Muscle relaxation
Muscle soreness decrease
Injury prevention
Pain relief
Suppress the feeling of "concrete" legs after a long run
Enhancement of performance
Muscle cramps prenvention
Injury prevention
Optimisation of regeneration
Decrease of heavy legs sensation
Muscle relaxation
Post-effort pain relief
Optimization of regeneration
LOCAL RECOVERY
After intense training sessions, hill workout or a physically demanding race, some muscular groups are more affected. Using Veinoplus Sport locally, in addition to "whole-body" recovery, will relieve sensation of fatigue and local pain. In conjunction with "whole-body" recovery, this local recovery gives you complete and optimised recovery. You can have several sessions in a row, as effects are cumulatives.
VEINOPLUS local recovery program :
NO MORE SATURATED LEGS!
Veinoplus Sport accelerates local elimination of metabolites (such as lactate), to relax muscles most involved in your activity. Improved return to normal levels of several biological parameters, locally increased after an effort, enables you to avoid intense pain during or after your performance. Used after a race, it prevents the « saturation » effect in lower limbs, causing acute pain.
VEINOPLUS SPORT REDUCES POST-EXERCISE MUSCLE SORENESS
Thanks to its draining effect, Veinoplus Sport accelerates resorption of muscular micro trauma, involved in muscle soreness development. Your can now achieve optimum recovery from your effort.
VEINOPLUS SPORT LIMITS THE RISK OF MUSCLE CRAMPS
Veinoplus Sport faster restores the balance of intracellular milieu. It helps removing excess of Ca 2+, produced during the effort and involved in painflul involontary muscular contractions, that can affect your time.
VEINOPLUS SPORT REDUCES POST-TRAUMA SWELLING
Veinoplus Sport reduces swelling related to tissue inflammation. Its draining effect enables to regain mobility of the affected area  and accelerates trauma relief.
VEINOPLUS SPORT ACCELERATES RESORPTION OF HEMATOMAS
Veinoplus Sport locally increases venous flow velocity. It drains small intramuscular bleeding following a hit, for a faster recovery and an improved performance at the next race.
Rémi PAURIOL (Française des Jeux French cycling Team)
My recovery is efficiently improved. I feel the difference on fluid retention and calf swelling after an intense effort. Indeed, pain is really relieved, thus recovery is enhanced. I can have several trainings or races in a row, knowing that I can count on  my legs."
RECOMMANDED SESSION TIME :
Significant effects since 10 minutes. For optimum results, use 30 minutes.
BODY POSITION :
Seating-Lying down-Standing up
INTENSITY ADJUSTMENT
Progressively increase the stimulation intensity in order to see and feel deep muscles contractions.
Training optimisation
Muscle relaxation
Muscle soreness decrease
Injury prevention
Pain relief
Suppress the feeling of "concrete" legs after a long run
Enhancement of performance
Muscle cramps prenvention
Injury prevention
Optimisation of regeneration
Decrease of heavy legs sensation
Muscle relaxation
Post-effort pain relief
Optimization of regeneration